Priyanka Chopra: The Non Movie Aspects
I think people in general vastly underestimate the non movie aspects of Priyanka. Look at it this way. Here's the first person who reached the heights of Bollywood, the largest movie industry in the world by sheer production volume, and then quickly also reached the heights of Hollywood, the largest movie industry in the world by dollar volume, without losing her stature in Bollywood. This has never happened before. And she is a college dropout along the lines of Steve Jobs and Bill Gates. She is a trailblazer. She is not even a dropout. She completely skipped it. She is obviously a very smart person (she was top of class at high school, and angling to be an engineer when her mother sent out her portfolio, and next she knew she was first Miss India, and then Miss World), a voracious reader more happy in a bookstore than in the stereotypically female shopping destinations.
Time magazine captured it though. The best is yet to come. I look at her trajectory and see she is going to be the top paid actor in Hollywood. It will happen sooner than most realize.
There are a lot of women (and men) around the world who want the idea of a career woman to no longer be news. Her role in Quantico (which is now seen all over the world, as on Indian television) speaks to them.
Art feeds society. Society feeds art. It is a non stop two way conversation. In that I think of movies as an art medium uniquely positioned to recreate gender roles and help make them more equal across the board.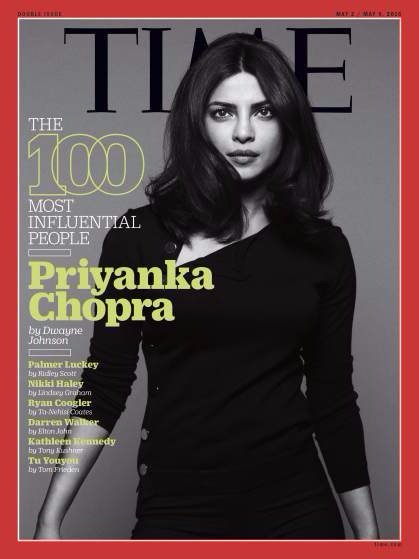 Priyanka Chopra: The Non Movie Aspects @TIME @priyankachopra @GMA #bollywood #hollywood #gender

— Paramendra Bhagat (@paramendra) January 30, 2017