The Ongoing Paris Attacks
This is like what happened in Mumbai years ago. Gunmen willing to die show up with automatic weapons, show up at crowded places in a major city, and open fire, wanting to kill anyone in sight, indiscriminately. This is not suicide bombing. The fatalities are much higher.
We are nowhere close to winning the War On Terror. It is an evolving situation. If the War On Terror is like the Cold War, like I have been maintaining since 2001 that it is, we are only in decade two of the War.
This is horrific. The asymmetry gives them the upper hand. It is not hard to smuggle in trained gunmen, or to obtain the weapons.
The scary part is, this could happen anywhere. This is the second time Paris has been attacked. Something similar happened in Australia. They blow up one cafe, and that act scares an entire nation.
There are two ends to the stick. One is, how do you make sure the wrong men don't end up in the wrong places? And that is tough. It is a big world. How do you make sure they don't show up with weapons? That is also tough. Another end of the stick is, once an incident gets reported, how swift is your counter reaction?
Intelligence work is crucial. How deeply have these groups been penetrated? That is also hard. Because they seek a constant feed of new recruits.
It is a tough, sad situation. The innocents getting slain -- your heart goes out to them.
I can imagine all big cities going on high alert after this. The thing is I feel love for big cities. I live in one.
This attack was designed with the intent to grab global media coverage. The impending climate talks in Paris will make sure that happens. The climate talks can not now be taken to a different city. And with 80 heads of state gathering, there will be major media coverage.
Paris attacks: eyewitness accounts
Paris attacks: Dozens dead and hostages held at Bataclan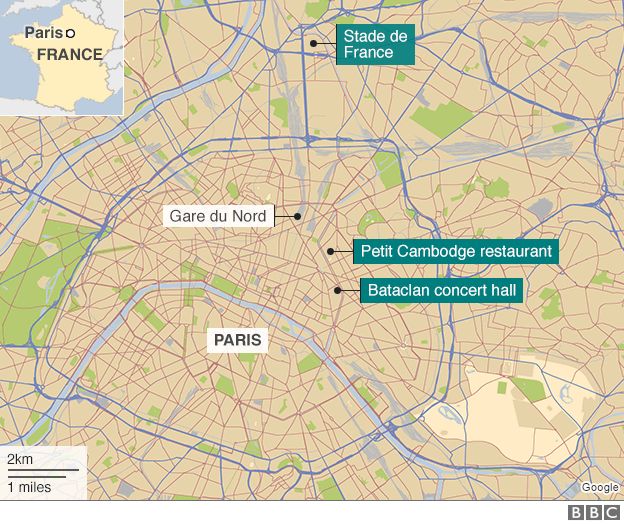 French president declares state of emergency
Dozens of people dead in attacks across Paris
Several dozen killed in violence around Paris, hostage-taking in theatre
a series of unprecedented attacks around Paris ..... The series of attacks gripped the city in fear and recalled the horrors of the Charlie Hebdo carnage just 10 months ago. ...... One of at least two restaurants targeted Friday, Le Carillon, is in the same general neighbourhood as the Charlie Hebdo offices, as is the Bataclan, among the best-known venues in eastern Paris, near the trendy Oberkampf area known for a vibrant nightlife. The California-based band Eagles of Death Metal was scheduled to play there Friday night. ...... The Charlie Hebdo attackers claimed links to extremists in Yemen, while the kosher market attacker claimed ties to the Islamic State group. ..... France's military is bombing Islamic State targets in Syria and Iraq and fighting extremists in Africa, and extremist groups have frequently threatened France in the past...... French authorities are particularly concerned about the threat from hundreds of French Islamic radicals who have travelled to Syria and returned home with skills to stage violence.
What Is Happening in Paris?
President Francois Hollande has declared a state of emergency across France and closed the country's borders after a series of attacks across seven sites in central Paris killed dozens of people Friday evening. ..... ABC News adds that 60 hostages are believed to be held in what is being described as "an ongoing situation." The Guardian is reporting that a witness on live radio in France claims "he heard the assailants [at the Bataclan] were screaming 'Allahu Akbar' while shooting inside the crowd." If true, this would be the first indication that the attacks were perpetrated by Muslim terrorists. .....

If it's shown that the attacks are coordinated, it would be the worst violence in Paris since World War II.

So far, there have no reports that any attackers have been apprehended.
NYPD Steps Up Security Citywide After Shootings, Explosions In Paris Kill Dozens
diners fell to the floor when gunshots were directed at the restaurant's window. She told France 24 that a woman lying next to her had a fatal injury. ..... One of the explosions was reported at a bar at the stadium where the match was going on...... CBS News reported French President François Hollande was in the stadium at the time. He was rushed away and taken to a secure area...... "These are obviously very highly planned attacks, acting in concert at the same time, and it appears to me that they were successful," said terrorism expert Manny Gomez. ...... Hollande said in an address to the country that the military was being deployed around Paris after the unprecedented attacks. Hollande also announced that the French borders have been closed. ...... Delta airlines said it was monitoring the situation and calling it very fluid. ..... An NYPD official said the department stepped up security at all high-profile locations in New York City as a precaution. The official said there were no specific threats in New York, and the decision to beef up security was precautionary. ......

At the time of the attacks, Paris was already on high alert in preparation for a global climate meeting in a couple of weeks, which 80 world leaders — including President Obama — were planning to attend.

...... The attack comes as France has heightened security measures ahead of a major global climate conference that starts in two weeks, out of fear of violent protests and potential terrorist attacks. ..... Emilioi Macchio, from Ravenna, Italy, was at the Carillon bar near the restaurant that was targeted, having a beer on the sidewalk when the shooting started. He said he didn't see any gunmen or victims, but hid behind a corner then ran away....... "It sounded like fireworks," he said. ..... Retired Army Lt. Col. Tony Shaffer said the U.S. and the international community must be vigilant, since the Friday attacks happened so soon after the Paris attacks...... "We do know already that whoever's behind this, the scope of it is a mess… the question then becomes,

what more is coming?"

he said. ..... The country has seen several smaller-scale attacks or attempts since the Charlie Hebdo massacre, including an incident on a high-speed train in August in which American travelers thwarted a heavily armed Islamic radical trying to attack passengers.