बीजेपी, उत्तर प्रदेश और २०१७
बिहार में बीजेपी हारा नहीं बल्कि नीतिश जीते हैं। २०१४ में भी बिहार में नीतिश हारे नहीं बल्कि बिहार के जनता ने उनको स्पष्ट कह दिया आपको पटना तो छोड़ना ही नहीं है। आप जो काम कर रहे हैं वो दुसरा करेगा कौन?
लेकिन अखिलेश नीतिश नहीं हैं। नीतिश का विकास का ट्रैक रेकॉर्ड stellar रहा है।
मायावती कोई ग्रैंड अलायन्स में आ जाए वो संभव नहीं दिखता। उनको तो लग रहा है मोदी दिल्ली में और अखिलेश लखनऊ में --- दोनों से जनता जब उब जाए तो जाना कहाँ? तो वो अपना झोली पसारेंगी। विकास का कोइ रेकॉर्ड तो है नहीं। अम्बेडकर तो गांधी लेवल के लोग। उनका statue बनाओ। खांसीराम तक ठीक है। लेकिन ये तो खुदकी statue बनवाने लगी।
लालु और नीतिश का तो कोइ presence है नहीं युपी में। मुलायम तो कतरा के भाग गए। नीतिश ने पहल किया, कि आप नेता बन जाओ। तो मुलायाम को लगा कह रहे हैं, आप बिल्ली मोदी शेर जाओ कुद जाओ मैदान में। तो वो अपना चालाकी से खिसक लिए।
कमसेकम चार खेमें तो रहेंगे। मायावती एक तरफ, अखिलेश एक तरफ, बीजेपी एक तरफ, अन्य एक तरफ। बीजेपी शायद २०१४ के तरह स्वीप न दे लेकिन फिर भी बीजेपी का पलड़ा अभी भारी है। फिर अभी वक्त भी तो है। काम करके दिखाने के लिए अभी वक्त है।
लेकिन मुद्दा विकासका होना चाहिए, सिर्फ विकासका।
Uttar Pradesh 2017 will be do or die for Modi.
Banaarasi Modi Ki Najar Mission UP 2017 Par
State BJP wants a CM nominee for #UP2017. Will Modi, Amit Shah oblige?
Modi might have lost UP elections already
In Bihar, the BJP was at least in the race to the throne, but Uttar Pradesh may not be so merciful.
Apparently, Prime Minister Narendra Modi sleeps just four hours a day. .....

LS 2014 saw the rise of Narendra Modi into a political rock star, Bihar 2015 saw the rise of his possible nemesis.

..... UPites love politics; it's their favourite pastime gossip. Even during the not-so-newsy days they are never short of topics to discuss it. And I say this for general UPites, not any more-politically-aware class; because there is no such class that enjoys politics less than the other. Even amid the Diwali fervour, Bihar results retain the top spot among the most happening conversations. More than who won, it is the who-lost-Bihar point which is discussed. Such chatter is usually inconclusive, but in a state where people wear their political opinions on their sleeves, it gives a clue of what the UP elections, due in 2017, may hold for the BJP. ....... In LS polls, BJP's vote share in the state was 42 per cent. It was a substantial increase from the last state Assembly elections in 2012 when the party got a mere 15 per cent votes. In an SP, BSP stronghold where BJP hasn't been in power for the last 20 years, it is a fairly impressive number. ........

In UP, the general feeling is that voters have been disillusioned by the BJP.

BSP and SP have upped their game which changes things further. Whether BJP fights UP with Modi at helm or not, the challenges at hand would be different this time. And it would be true for forthcoming state elections as well as the big one in 2019. ........ The Akhilesh government has sped up the work on all the major developmental programmes. With a massive ad campaign, strong social media presence, and sacking of eight non-performing ministers he has also undertaken an image makeover exercise. ...... Another advantage these parties have is strong leadership at state level, as well as district and city levels, an advantage the BJP doesn't have. ..... SP and BSP have a loyal voter base in Yadavs, Muslims, and Dalits which form more than 40 per cent of UP's population. .... 2017 may be a tough fight between BSP and SP. In Bihar, the BJP was at least in the race to the throne but UP may not be so merciful.
Buoyed by Bihar, Congress warns SP, BSP: In 2017 UP assembly elections, will target you
Congress launched a direct attack on Samajwadi Party supremo Mulayam Singh Yadav and BSP chief Mayawati accusing them of trying to serve the agenda of BJP and PM Narendra Modi
A senior leader said that aggressive attack by party vice-president Rahul Gandhi on Narendra Modi government gave such results in Bihar and has raised the morale of party workers across UP. He said the party is now expecting to be in a fighting position against the SP and BSP in 2017 UP polls. ...... Congress MLA from Marihan in Mirzapur district, Lalitesh Pati Tripathi said, "RJD chief Lalu Prasad has announced to visit PM's constituency Varanasi after Chhath puja to expose the development that has taken place so far in the NDA rule. Congress workers have decided to welcome him in Varanasi and take him on a tour of city to show him the real condition".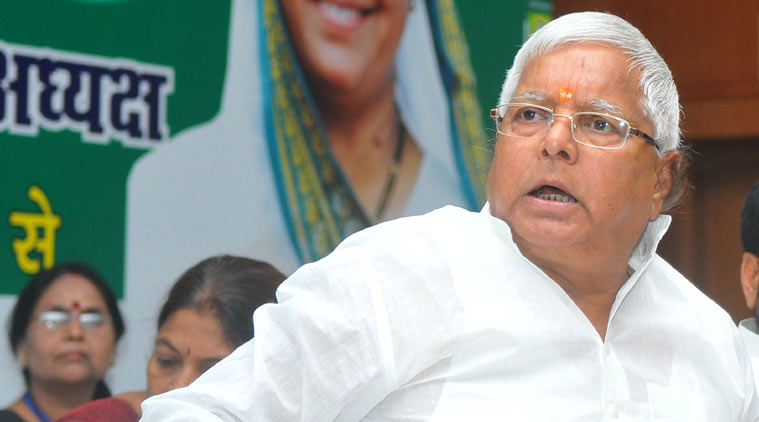 In fight against BJP, Lalu to strengthen SP in 2017
Lalu Prasad will be campaigning for the Mulayam Singh Yadav-led party for the Uttar Pradesh Assembly polls in 2017.
WHILE THE Samajwadi Party is said to be reconsidering to unite with the Mahagathbandhan after its landslide victory in Bihar polls, Rashtriya Janata Dal chief Lalu Prasad will be campaigning for the Mulayam Singh Yadav-led party for the Uttar Pradesh Assembly polls in 2017. ...... Lalu has already announced to visit Prime Minister Narendra Modi's Lok Sabha constituency Varanasi next month "where he would search with the help of his 'lantern' (RJD symbol) the development promised" during the 2014 Lok Sabha polls". Besides undertaking a tour of the city as well as Jayapur village — adopted by PM under the Sansad Adarsh Gram Yojana – Lalu will also address a public meeting there. The Congress, too, has announced to give a warm welcome to Lalu in Varanasi. ......... The party's Uttar Pradesh unit, that had been sidelined for the past several years, got a major morale boost after the Bihar poll victory. "Bihar results proved that Lalu ji has acceptability among the masses. We are going to turn it into a wave against BJP across the country. It will begin from UP where the party will work to strengthen SP in 2017 Assembly polls," said Ashok Singh. ....... SP leader Shivpal Yadav has said that they would welcome the the RJD chief here as a 'samdhi' (relative).
Bihar Verdict: Patch-up in sight as RJD extends hand to Samajwadi Party in UP
Lalu has already announced he will visit Prime Minister Narendra Modi's constituency of Varanasi, UP, next month to "expose the reality" of what change has happened after Modi's 2014 Lok Sabha victory.
Bihar polls impact on Uttar Pradesh: Samajwadi Party wants to 'forget past', work with Grand Alliance
Mulayam and Shivpal called up Nitish and Lalu to congratulate them on their victory while Uttar Pradesh Chief Minister Akhilesh Yadav extended greetings on Twitter.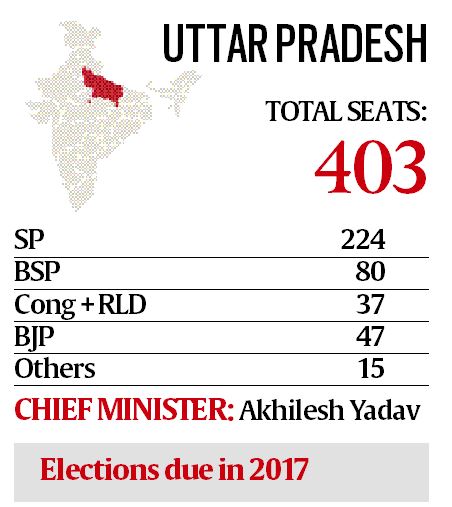 No chance of a UP grand alliance: It will be a BJP-BSP contest in the 2017 state polls
Bahujan Samaj Party supremo Mayawati has predictably shot down chief minister Akhilesh Yadav's trial balloon of a mahagathbandhan to take on the BJP in the Uttar Pradesh assembly elections. ..... Though politics is known as the art of impossible, to expect Mayawati and Mulayam Singh to contest the election together would have been equivalent to the naiveté of imagining a snake and mongoose playing together. Mayawati is known for her ego and ambition, Mulayam Singh is infamous for his betrayals, backstabbing and even bigger ego and ambition; both of them depend largely on the same vote bank and fancy their chances of winning the next election on their own. No, Mayawati is the west of Lucknow politics, Mulayam its east and the twain would have never come together. ........ One, the Congress is likely to be wiped out and reduced to a non-entity; two, the Samajwadi Party will lose a huge chunk of votes; and, three,

the real fight would be between the BJP and the BSP.

...... a Congress-mukt election harms the BJP. ...... By now, the BJP must have realised that it does well in UP only when Hindu voters are polarised and there is confusion among Muslim voters, leading to their division. ..... With the SP facing anti-incumbency and the state's nearly 20 percent minorities having tasted the fruits of tactical voting in Bihar, the BSP's support base is likely to widen and that of the SP is expected to shrink in 2017, making Mayawati the face of the anti-BJP campaign. ...... In 2007, Mayawati had managed to win over the Brahmins of UP, considered to be around 10 percent of the electorate. If she manages to once again become the leader of sarv samaj (Muslims, Dalits and Brahmins), instead of remaining the supremo of just the Bahujan Samaj, Mayawati could turn out to be the Nitish Kumar of UP, even without a mahagathbandhan.
UP elections: After Narendra Modi and Nitish Kumar, Congress enters Prashant Kishor's fan club
Kishor has been sounded out for campaigns in Bengal (Trinamool), Tamil Nadu (AIADMK) and Assam (Congress) as well but the UP assignment for Congress is for him the most important decision. ...... Kishor is well aware that the "road to 2019 (the next general election) runs through 2017 (when UP assembly polls are due)". "He (Kishor) knows

the party that wins UP in 2017 will have a huge advantage in 2019"

..... Kishor, however, is likely to face a job considerably tougher than the 2012 Gujarat victory for Modi or the 2014 Modi assignment for the general election or the 2015 Nitish assignment. ...... unlike in Bihar, Congress doesn't plan to play second or third fiddle to satraps in UP. The state in 2017 is likely to see a 4-cornered contest between BJP, Congress, SP and BSP. ..... UP's political observers consider Congress to be the weakest of the four contestants. Kishor, therefore, will have arguably his toughest challenge so far because both Modi in 2014 and Nitish in 2015 had certain advantages that could be exploited. ...... "Prashant has his own way of working and has little patience with intrigue and politicking. With Modi, he had direct access, same with Nitish and Lalu. He doesn't deal with gatekeepers"
Countdown for 2017 begins in U.P.
Over the last few months he has also come out from under the shadow of his father, SP chief Mulayam Singh and his uncles Shivpal Singh and Ram Gopal Yadav and according to officials in the Shastri Bhavan secretariat from where his government is run, far more assertive than he was in 2012-13.
Top parties begin electoral strategies for 2017 UP polls
Uttar Pradesh assembly polls is more than 15 months away from now ..... February 2017 ..... If Bihar returns Kumar and backs Laloo, Mulayam is confident of returning to a nation-wide grand alliance against prime minister Narendra Modi. After all, if backwards do not side with the BJP in Bihar, Samajwadis feel they too will have a chance to keep UP for another five years. ........

The BJP in Uttar Pradesh is working rapidly on ground. It goes to the credit of party's national president that BJP cadre throughout Uttar Pradesh is confident of forming its government in 2017.

The communal tension and sporadic violence in some district may be coincidental but contributing favourably to the BJP....... at the time of country's independence, Mahatma Gandhi was walking barefooted village after village in Noakhali district of Bengal, in a hostile atmosphere created by riots, making people to take a pledge not to kill others. He carried holy books, appealing to Hindus as well as Muslims, to ensure peace. There was a moving incident at one village. Gandhi visited that village. He asked the Hindus and Muslims to come out of their hutments for a common prayer and a common pledge for peace. No elderly person turned up. He waited for half an hour, not even one Hindu or Muslim turned up. Gandhiji was very ingenious. He had carried a ball with him and then addressing children from the village he said: "Small kids from this village, your parents are frightened of each other but what fright you can have? Elderly Hindus and Muslims might be frightened of one another. But children are innocent. You are children of God. I am inviting you to play the game of ball." The Hindu and Muslim children started moving towards the dais where Gandhi was sitting. Gandhi threw the ball at them. Boys and girls threw it back. He played for half an hour and then he told the villagers: "You have no courage but if you want that courage, induct it from your children."